After 4 months of capacity building through participation in workshops and online lectures, participants were divided into 15 groups based on their area of expertise and interest to help navigators of each group to implement Leadership in Action (LiA) projects. For a duration of 6 months, until November 2021, participants were expected to turn theory into action, and jointly work on 15 impactful, community projects on the Sustainable Development Goals across ASEM.
One of the LiA projects, which we would like to introduce, was led by Svea Kucinic. During ASEFYLS4 Svea was one of the navigators.
Alvin: Hi Svea! First of all, could you please introduce yourself and tell us your background?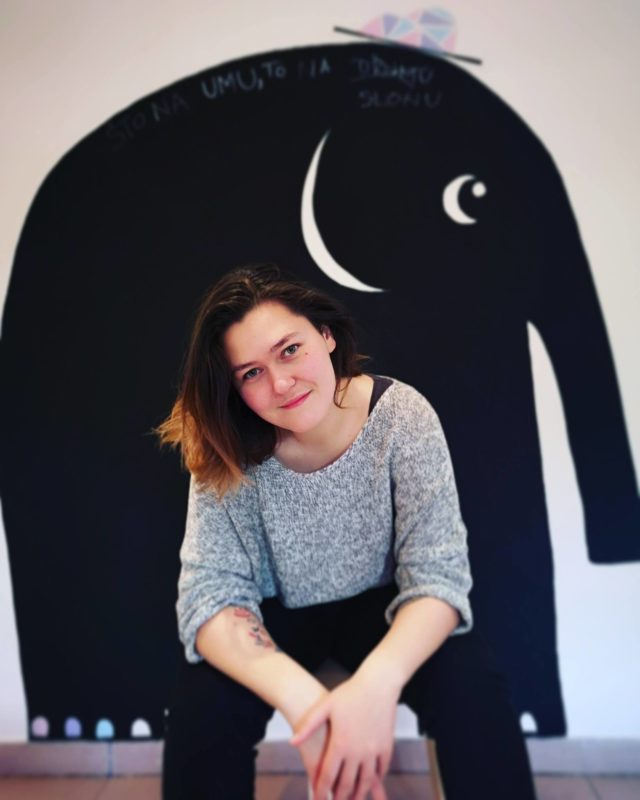 Svea: Hello, my name is Svea Kucinic and I am from Zagreb, Croatia. I am 27 years old and hold a Master's Degree in Educational Rehabilitation from the University of Zagreb's Faculty of Education and Rehabilitation Sciences. I have worked in several primary schools and one secondary school as a disability counsellor. I am currently employed as an expert associate for projects and programmes in the Women's Room – Centre for Sexual Rights. I am also the owner of the private educational rehabilitation practice "Elephant/Hat" and the author of "Zlata and the Magic Threads", an educational children's book about emotions.
Alvin: What is your leadership in action (LiA) project? And what is the most pressing issue you would like to deliver in your project?
Svea: The "Leadership in Action" project #5 focuses on the theme: "Teaching & Learning during COVID-19 – "What Do You Need?". It is based on the idea that in order to create a sustainable, equitable and inclusive education environment, all stakeholders within the education process need to be approached with empathy so that their real needs can be heard and addressed accordingly. 
The education sector has been severely affected by the COVID-19 pandemic. In primary and secondary education, besides the directly visible impact of school closures and the move to home-based learning, two issues became apparent:
First, mental health of both students and teachers is a definite prerequisite for quality teaching & learning, and not enough emphasis has been placed on its role in the education process.
Second, many students, especially those with special educational needs and those from disadvantaged backgrounds require more support in developing basic learning skills such as time management or task organisation.
Key questions arise:
–       What does empathy in the teaching & learning environment look like?
–       How can we build up a peer-to-peer support system for students, teachers and parents?
Alvin: How many people are you working with you on the project?
Svea: My core team consists of 9 dedicated young people from the Philippines, Latvia, Indonesia, Italy, Japan, Slovenia, Cambodia, and India. Apart from my project team, there is also the ASEF team, who have been a constant source of support, and our guest trainers, who are 6 education and mental health experts from Croatia.
Alvin: How was your experience working with people you have only recently met, and who come from different backgrounds and countries?
Svea: The experience has been wonderful. The fact that everyone in my team comes from a different background and a different country really brought a lot of value to the project. The various perspectives, experiences, and fields of expertise contributed to the project, which grew beyond my initial idea. For example, because three of my team members have extensive experience and interest in research, we have decided to add a survey about the needs of teachers in ASEM countries as one of the project activities. 
Apart from contributing to the quality of the project, getting to interact with people from different countries and cultures was a refreshing change after over a year of not being able to travel. I hope that we have created more than just a project. We are a group of people, who enjoy spending time together. We have enjoyed our social sessions just as much as the project work.
Alvin: Where and when did you implement your LiA project? 
Svea: We have implemented our LiA in Croatia, so far, via a series of five online workshops for teachers. In addition, we conducted four online workshops for parents as well as 2 meetings for a teacher support group. We had over 190 participants for the workshops for teachers and 90 participants during the workshops for parents.
The feedback from the workshops has been very positive. 73 participants filled out the overall feedback form in English and gave the workshops an average grade of 4.8 (out of 5). 74.3% of those who filled out the feedback form for the workshops for teachers and 76.9% of those who filled it out for the workshops for parents said that all of the workshops were useful to them. 91.5% stated that they would be interested in participating in similar projects in the future, with several teachers emailing us to explicitly ask to be informed if we decide to repeat the project or do a similar project in the future. Some even expressed the wish to be involved in future projects as speakers.
Aside from the workshops, we have also conducted a survey about the needs of teachers across ASEM countries, with answers by 181 teachers from 51 countries.
We're currently also working on creating a Digital Toolbox, on ASEF's e-learning platform, which will contain video lessons and materials from all 9 workshops conducted in Croatia, in English, and written summaries for each topic in Italian and Khmer.
The reason behind this project and it also being done online and in several languages is that we wanted it to be accessible to those who usually struggle to find adequate support. The pandemic has been stressful for everyone, but I know from personal experience how incredibly stressful the pandemic is for teachers, students, and their parents. There were multiple levels of challenges that threw them into the midst of a global state of emergency, while fearing for one's own safety and the safety of loved ones. At the same time teachers have to adapt to a whole new way of teaching and learning, which they have not had time to properly prepare for. Simultaneously, we lost some of the most important ways of looking after our well-being: social contact, face-to-face interaction or our hobbies.
The idea behind the project was to shift from the usual position of demanding something from someone, to instead approaching the three main stakeholders in education with a question which, in my opinion, could change a lot of things in our education systems for the better. We need to ask: What do you need?
Alvin: What was the outcome of the LiA project?
Svea: We see it in the number of workshop applicants and the overwhelmingly positive feedback we got. We also have tangible deliverables in form of written materials and video lessons that we are preparing for the Digital Toolbox. We have also created a Facebook page and an Instagram profile for the project.